Arcadia, a technology company connecting the clean energy future, has teamed up with EDPR NA Distributed Generation (EDPR NA DG), Google, and Elevate to implement a novel solution addressing the energy cost burden faced by over 30 million US households.
The program, initially announced in April, features a portfolio of 500 megawatts of distributed solar power that will contribute to Google's sustainability goals across several states in the Midwest and Mid-Atlantic, primarily in Ohio. EDPR NA DG engaged Arcadia to bring its industry-leading software platform and solar customer experience to identify and enroll approximately 25,000 qualifying low- and middle-income households and provide them with financial savings on their utility bills. Elevate will partner with local communities in Ohio to install health and safety home improvements made possible by the $12.5M Community Investment Fund the program creates.
"We are excited to have Arcadia and Elevate join this partnership and help us deliver on our program goals in the communities where it was built to serve," said Sana Ouji, Senior Energy Lead, Google.
The Challenge: Energy Cost Burden
A significant number of US households that want to take part in clean energy do not have access to state or utility programs for community or rooftop solar, leaving them without options. Many of these households — particularly low-income Black, Hispanic, and Native American families — could benefit most from the savings that clean energy brings because they are faced with a higher energy cost burden, where they allocate a disproportionate share of their income to utility bills.
In parallel, corporate sustainability goals have expanded to account for broader social impact considerations alongside meeting carbon goals. As Google continues to make progress against an ambitious 2030 goal to operate entirely on 24/7 carbon-free energy, they're also aiming to build upon programs that extend the benefits of their investments to underserved communities. 
The Solution: "Synthetic" Community Solar
In a first-of-its-kind move, EDPR NA DG and Google announced their innovative partnership in April 2023 to rapidly address both carbon-free and social impact goals. The plan outlines EDPR NA DG building, financing, and operating a 500-megawatt solar portfolio across approximately 80 community-scale projects in the 13-state PJM grid region. Google will use this solar power to work towards its 2030 goal to operate entirely on 24/7 carbon-free energy, with a particular focus on improving the environmental impact of its Ohio data centers. Crucially, a minimum of 10% of the solar portfolio's revenue will be annually redirected as utility bill savings to an estimated 25,000 low- and middle-income households burdened by high energy costs.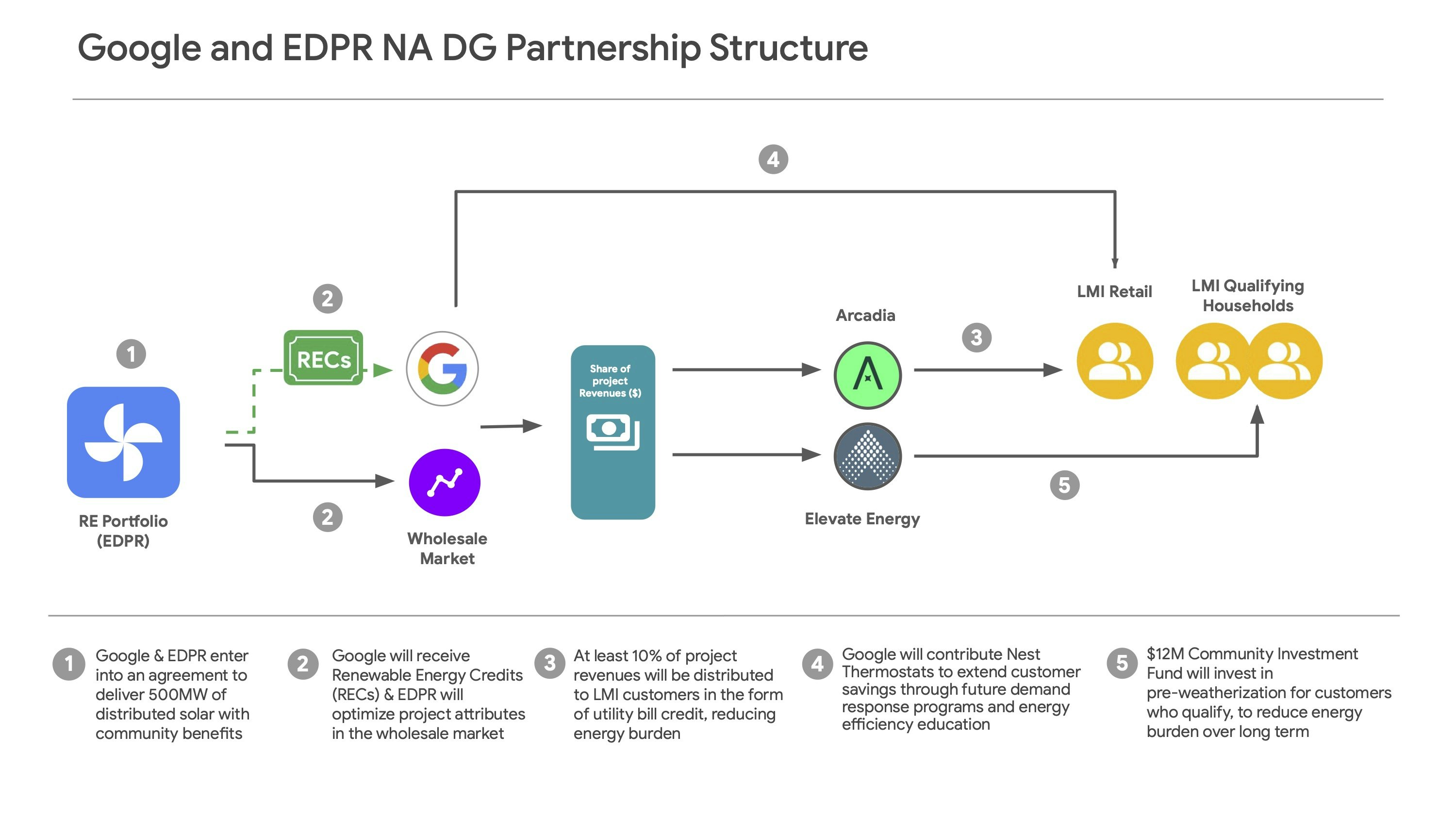 Novel Structures for Community Benefits
In pursuit of these community benefits, Google and EDPR NA DG have collaborated with Arcadia — leveraging its proprietary access to national utility data, experience in state-level community solar programs, and established customer base. Arcadia will play a central operating role for the portfolio to seamlessly deliver financial savings directly onto participating households' monthly energy bills throughout a 15-year program. Arcadia has developed proprietary software that delivers financial value to qualifying households as utility bill savings, and measures the savings achieved by each household as a percentage of its actual annual electricity cost. By leveraging Arcadia's proprietary technology, the partnership does not rely on any utility-administered programs for valuing solar energy or distributing credits or savings. As a result, the market for this "synthetic" version of community solar is open nationally, and not constrained by individual state or utility policy choices.
In order to identify and enroll qualifying low- and middle-income households, Arcadia will market the new program directly to residents in applicable communities and connect each participating household's utility account to the Arcadia platform to enable a simple and intuitive customer experience.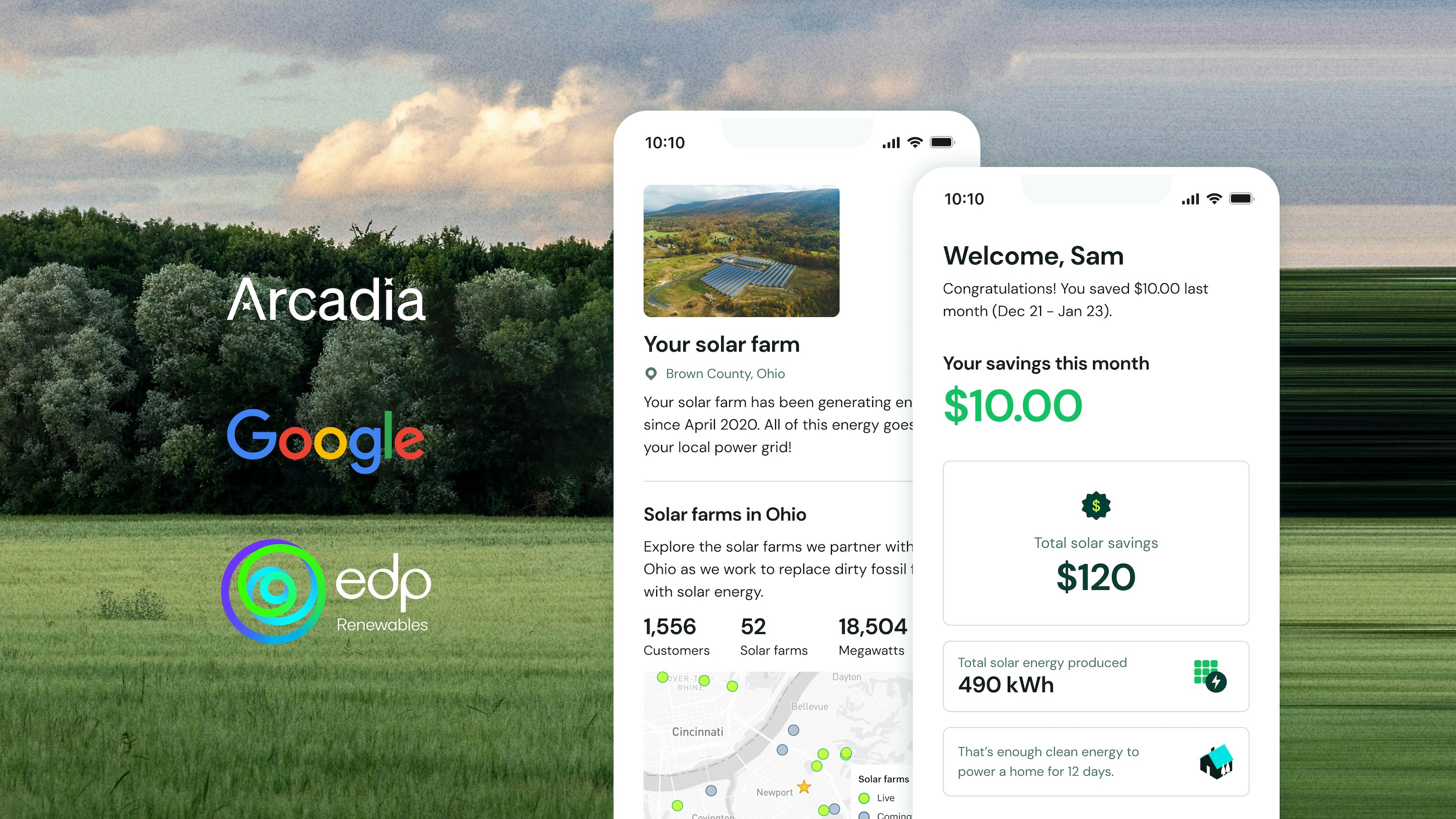 This innovative partnership promises to make clean energy more accessible and affordable, marking a significant step towards a sustainable and equitable energy future for all.
"This collaboration stems from a tremendous amount of thought leadership and technological innovation from the teams at EDPR NA DG, Arcadia, Elevate Energy, and Google. With this new transaction, we are able to make an unprecedented level of direct community impact that, unless we were to participate directly in a community solar program, would have been previously impossible," said Gustavo Monteiro, CEO, EDPR NA Distributed Generation.
"This partnership exemplifies our commitment to cheaper, cleaner energy access," said Kiran Bhatraju, co-founder and CEO of Arcadia. "We're thrilled that our technology will play a critical role in bringing the benefits of solar to a wider range of households who previously couldn't access them."
About Arcadia 
Arcadia is a climate technology company connecting the clean energy future. Founded in 2014 on the belief that everyone deserves access to clean energy, Arcadia manages the nation's largest community solar portfolio, helping to tackle energy injustice while spurring economic growth with more than 1.8 GW of solar under management.
About Elevate 
Elevate is a nonprofit organization that works nationally and is headquartered in Chicago. Elevate designs and implements programs to ensure that everyone has clean and affordable heat, power, and water in their homes and communities — no matter who they are or where they live. Learn more at ElevateNP.org