As the clean energy future continues to develop, more consumers are implementing rooftop solar to forward their personal energy transition. Here at Arcadia, we provide the necessary data to accelerate this shift. Our Switch product provides a comprehensive family of APIs and calculators designed to estimate the potential savings of residential rooftop solar systems and accelerate the sale and implementation of rooftop solar. 
We're excited to announce that Switch now features integrated battery storage modeling — increasing the speed and easing the complexity of calculations for solar and storage installers in service of providing the best possible cost modeling experience for homeowners.
At its core, Switch brings unparalleled value to our customers by providing an accurate and convenient way to estimate potential savings from residential solar installations. Solar installers and providers like Sunrun and SunPower have already embraced Switch as an essential tool. Now with storage modeling, Switch provides results that are seamlessly integrated into solar and storage proposals, filling in crucial assumptions necessary for savings calculations and helping homeowners visualize the tangible benefits of transitioning to solar energy.
Introducing the new release: Storage Modeling in Switch
The latest release of Switch heralds a groundbreaking addition — integrated battery storage modeling capabilities. This enhancement empowers customers to generate and include a storage charge/discharge schedule within their Switch savings calculations. DER providers can now add battery storage to the modeling equations and take into account the complexities of the home energy load and energy consumption patterns.
As technology and regulations evolve, the need to model solar and storage installations will become acute for DER installers. In states like California, NEM3 export rates were specifically designed to incentivize battery adoption by making it difficult to achieve a financial return on solar-only projects. Under these new market conditions, storage modeling significantly increases electricity savings — allowing buyers to boost resiliency without giving up on a positive ROI. In the California case, the median ACP (Avoided Cost of Power) of solar and storage is 80% higher than solar alone, across the state's three big investor-owned utilities.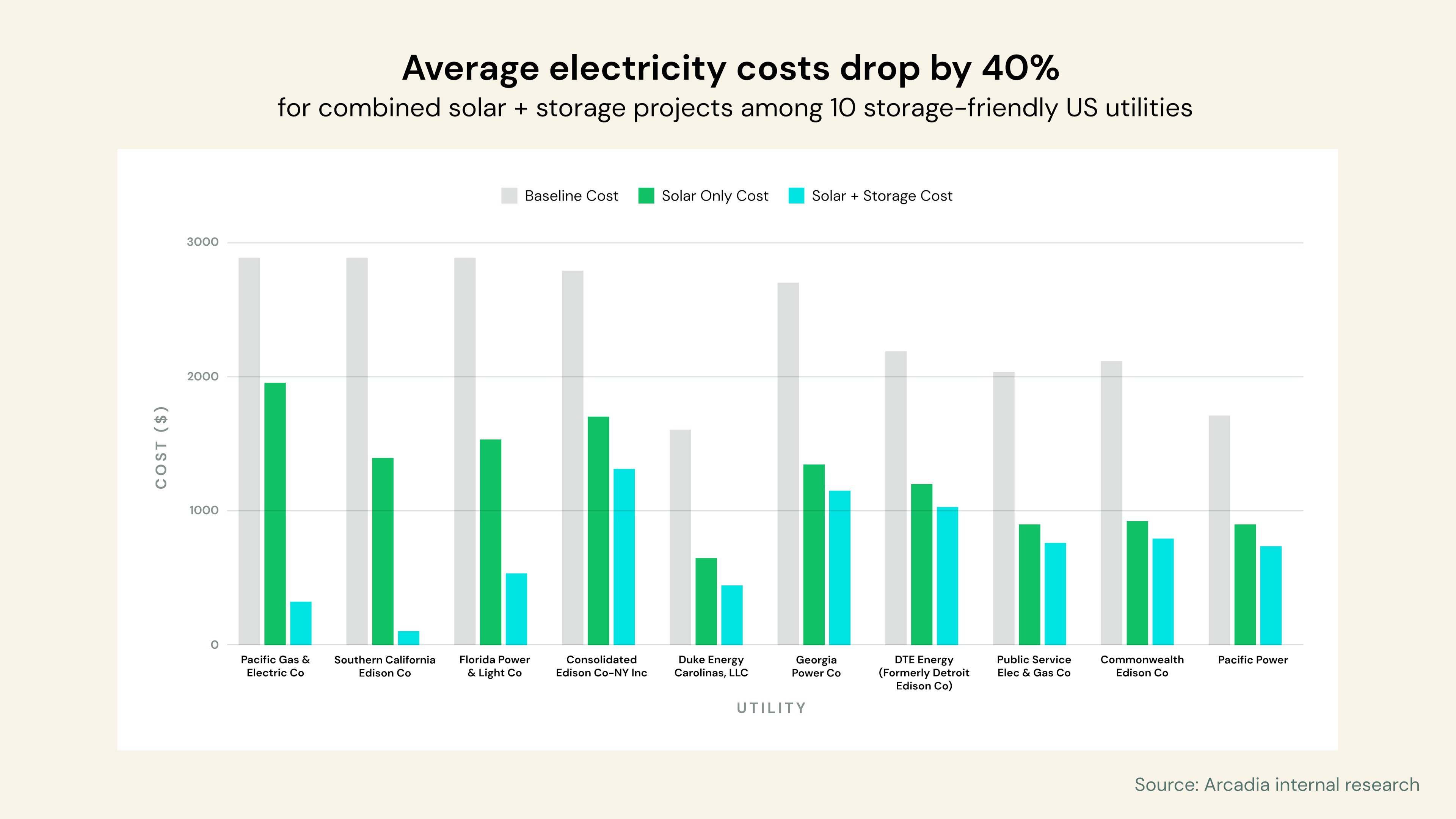 Among the first customers of the new feature is Haven Energy, an energy company helping consumers add battery storage to their homes. They're using Switch to help model costs and return on investment of implementing standalone and solar-backed battery storage options across multiple states and utilities. Jeff Chapin, co-founder at Haven, explained why Storage Modeling in Switch has been a valuable tool for them.
"Our previous storage models were only built for two utilities, so we knew we needed to build on top of a platform that would allow scalability for geographic coverage and tariff coverage," Chapin said. "With a tool like Arcadia's, you can toggle the battery modeling to 'on,' change the rate plan, and see the financial savings difference for the customer. It is a fairly complex thing to understand as a consumer, so showing them the details can help with that purchase anxiety."
Key features of this release
1. Modeling actual battery dispatch.
Unlike basic battery storage estimations, our new Switch release takes a holistic approach by modeling actual battery dispatch scenarios. The calculations take into account real-world factors such as energy consumption patterns, solar generation variations, and battery specifications like capacity, conversion efficiency, degradation costs, and AC/DC coupling. The model can further be customized to the installation by limiting behind-the-meter power flows and applying one of three dispatch strategies that mimic the hardware controls supported by the OEMs: 
Hourly price optimization. Ideal for tariffs with Time of Use (TOU) pricing and the new generation of hardware controls that support hourly dispatch.
Fixed schedule. Mimics the most prevalent battery controls, where charging/discharging occur during fixed time intervals. 
Charge from surplus. Designed to maximize energy independence, this model uses self-generation to reduce the home's reliance on the grid. 
This level of accuracy enhances the credibility of the savings projections, giving homeowners a clearer understanding of what to expect.
2. Across-the-board tariff compatibility with coverage for over 97% of North American utilities
Switch is designed to work seamlessly across all tariffs in the US. This inclusivity ensures that customers from diverse geographical locations can make informed decisions based on their specific energy pricing structures. The calculations also consider tariff granularity, resulting in more precise estimates of potential savings and improved transparency for users.
3. Dual modeling capabilities
A standout feature of the new Switch release is its capacity to model both solar and storage solutions along with standalone storage systems. This flexibility allows prospective customers to evaluate the benefits of adopting solar and battery storage together or solely focusing on energy storage solutions.
As the world continues to emphasize sustainable energy solutions, tools like Switch play an integral role in facilitating the clean energy transition. With this latest release, Switch becomes an even more indispensable asset to solar and storage providers and homeowners alike.