A decade ago, if you wanted to make the switch to renewable energy at home, most likely you'd be out of luck. You probably didn't even have a choice in the matter. In those days rooftop solar was your only option and, for the vast majority of U.S. families, that was no option at all.
Fast forward 10 years and, thanks to the growth of community solar, more Americans do have a choice — and they are choosing clean energy. Kiran Bhatraju, Arcadia's Founder and CEO, correctly believes that community solar is the best clean energy product for businesses and consumers today. As Kiran recently told me, "Community solar is on the fast track to be the best way residential customers access solar energy and savings. By reaching two-thirds of customers that will never put solar on their roof, community solar works for millions of Americans."
Arcadia has been a leader in this movement — pushing for market expansion and a positive customer experience — and we are now the largest manager of community solar projects in the United States with capacity under management in 14 states.
Today we're excited to announce a historic milestone. Arcadia is the first and only community solar provider with more than 1 GW of capacity under management. To put that figure into perspective, 1 GW is equivalent to 150,000 households powering their homes with clean energy; and is commensurate to preventing more than 1 billion pounds of coal from being burned to power the grid each year.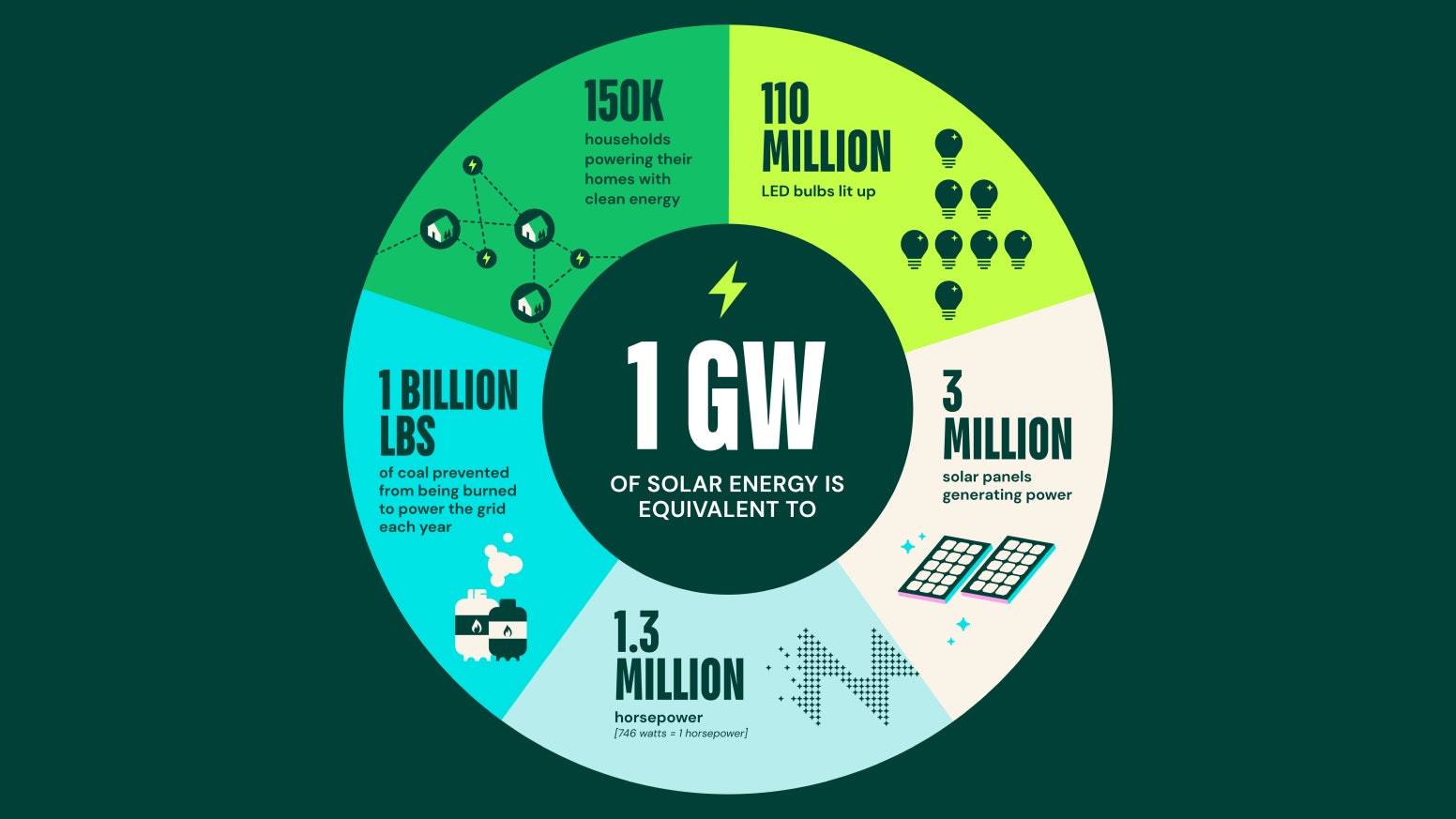 This milestone reflects the success of Arcadia's patented technology, which has simplified customer enrollment with consumer-friendly terms and increased transparency, and importantly, also reduced risk for project developers and investors. Arcadia's model of delivering guaranteed savings with no risk to the customer, while allowing anyone to subscribe regardless of their credit score, has become the industry standard. We will continue to drive new innovations to ensure that customers, communities, and solar farm owners alike get the most value possible from community solar.
Crossing the 1 GW mark is exciting but it's just the start because community solar's decade-plus growth spurt shows no signs of abating. Industry capacity has more than doubled, on average, each year since 2010 — and with the Department of Energy setting a goal of having the equivalent of 5 million households participating in community solar by 2025, demand will continue to rise. To support that goal, the recently-passed Inflation Reduction Act has billions of dollars in investments in community solar.
Building on this momentum, what must come next is continued, bold action by policymakers to expand access to community solar projects. Arcadia has demonstrated there is no shortage of customer demand for community solar. Our focus now is on expanding the community solar market, whether by increasing capacity in existing programs or by opening up new states, so consumers nationwide can enjoy the economic benefits of solar while helping to create a cleaner, local power supply.