Sign the Greater Grid Pledge
We're on a mission to bring access to community solar to the two-thirds of Americans who can't take advantage of rooftop solar. But we need your help.
Do it for the Greater Grid.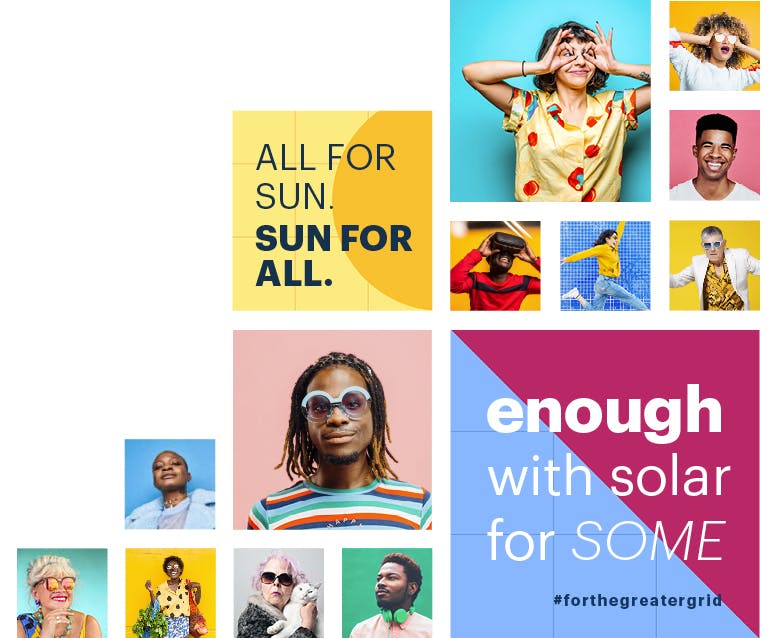 Your voice can make a difference.
Solar energy is cheap and abundant. But historically, only homeowners with the right roof, credit score, and budget could directly access its environmental and economic benefits. We're on a mission to change this, but we need your help.

Only 19 states have passed community solar legislation. And while policy change doesn't happen overnight, legislators are listening. The more solar champions we can bring together, the greater our chances at advocating for meaningful change.
Join us in democratizing solar energy by adding your name to the Greater Grid Pledge.
Sign the Pledge
I believe access to affordable, renewable energy should never be dependent on one's socio-economic status.
I believe we need a more equitable energy system in America. A system that is not only 100% renewable, but that provides all people the opportunity to benefit from the promise of community solar.
I recognize that burning fossil fuels jeopardizes the health of millions of people – disproportionately BIPOC communities – and I believe that nobody should be subjected to this danger.

Keep the momentum going with one action for the Greater Grid
Here are six ways to take action.
Join a community solar project
Take two minutes to join a community solar farm near you and help decarbonize your community's grid. Check availability in your area.
Speak with a clean energy advisor
Meet with one of our clean energy advisors for free to learn about accessible clean energy options in your community. Schedule a session.
Make some noise about community solar
Most Americans don't realize that community solar is an option for them. Help raise awareness of its climate and bill-saving benefits by sharing your support with your friends and social networks. Spread the word.
Bring solar to your business
Make change from within by pitching a community solar program for your workplace, employees, or customers. Learn more.
Advocate for policy change
Sign a petition or contact your local representatives to advocate for community solar legislation in your area. Learn more.
Expand your awareness
Learn more about the importance of energy justice and how you can support groups already working toward a more just, renewable future by exploring some of the resources below.
Power for the people, by the people
Arcadia is making it easy and affordable to power every home in our country with wind or solar energy. Our goal is to stabilize the climate by accelerating America's transition to clean, renewable energy.