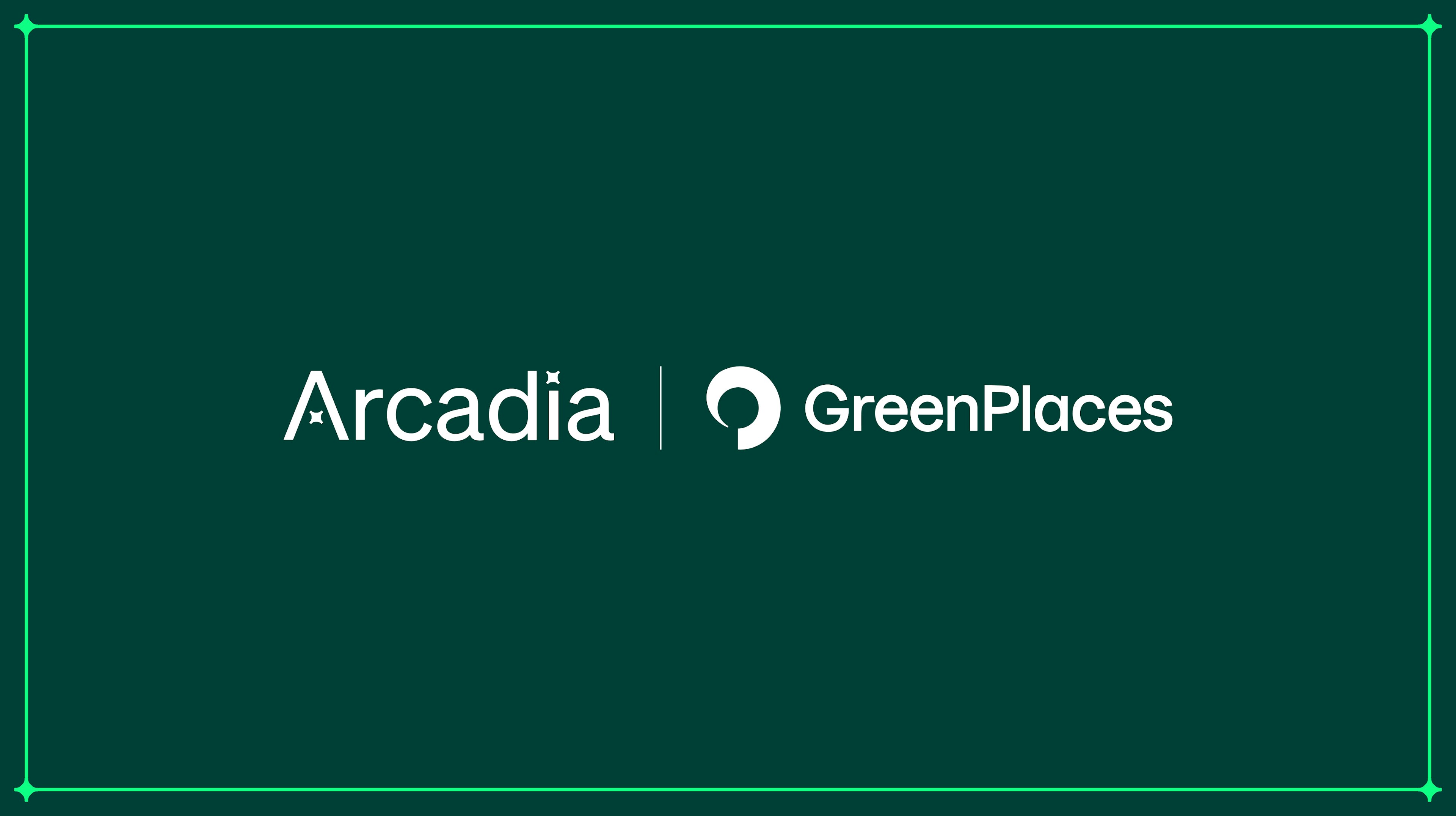 Embedded software partnership helps empower franchise companies to meet their carbon reporting goals with auditable utility data
Denver, CO, November 16, 2023 – Arcadia, the technology company connecting the clean energy future, today announced a new partnership with GreenPlaces, the all-in-one sustainability platform — enhancing the automated capture and delivery of auditable, real-time utility data to GreenPlaces' customers. Arcadia's data will help those customers — often large franchise businesses — collect accurate and audit-ready data for their carbon reporting needs. Arcadia's data is an essential plug-in for any business looking to effectively monitor, report, and optimize their energy footprint.
With Arcadia's data embedded in GreenPlaces, companies can dramatically improve and simplify their environmental tracking and reporting to better meet their sustainability goals and ESG requirements. With thousands of utility providers in over 50 countries — and 95% coverage of US utility accounts — Arcadia is the first to offer such a breadth of energy data with verifiable accuracy. With that data, businesses can generate auditable reports and capture historical energy usage data to establish a baseline. Plus, the data is formatted to meet the needs of each respective business using the platform, and is delivered automatically as soon as it becomes available. 
Arcadia's comprehensive utility dataset will be embedded into the GreenPlaces platform for all customers. As a result, this partnership makes it easier for companies that do not own all of their utility bills — like franchises and Quick Serve Restaurants (QSRs) — to still access all of their energy data. 
"We're thrilled to bring our data to enhance GreenPlaces' all-in-one sustainability platform," said Alexa Minerva, VP of Partnerships at Arcadia. "Our partnership with GreenPlaces extends our growing partner ecosystem to now include a leader in the franchise vertical as their technology allows customers to connect the dots between corporate and franchisee when it comes to energy data across their entire portfolio."
"This partnership is an exciting opportunity for our customers to more easily gain additional insight into their energy usage and thus make more informed decisions to impact their footprint," said Alex Lassiter, Founder and CEO of GreenPlaces. "This furthers our mission to democratize access to sustainability."
About Arcadia:
Founded in 2014, Arcadia unlocks access to global utility data. Our technology powers the next generation of climate solutions, giving anyone the tools to electrify and decarbonize. For media inquiries, please email press@arcadia.com
About GreenPlaces:
GreenPlaces is an all-in-one sustainability platform that makes it easy for busy organizations to meet sustainability goals, no matter their starting point. Founded in 2021, GreenPlaces helps businesses meet carbon reporting requirements, reduce emissions, increase loyalty, and produce measurable ROI – all from one platform. With over 2,000 integrations, the platform automates time consuming data collection to make it simple for organizations to understand and reduce their carbon footprint. GreenPlaces makes sustainability good for business, good for the planet, and accessible to all. For more information visit www.GreenPlaces.com.