When I started Arcadia in 2014 (a lifetime ago in the climate tech world), a fully decarbonized power grid was difficult to envision. Clean electrification hadn't taken off yet. The explosion of climate tech VC funding was years away. And clean energy was really, really hard to access for customers.
Eight years later, we've come a long way. So many smart people are working on a wide range of climate solutions, and a decarbonized grid is becoming not just a possibility but an imperative. Still, that core challenge of access has remained.
Without access to data, it will be impossible to modernize, decentralize, and decarbonize the energy system.
Access to comprehensive, accurate utility data has been a fundamental barrier for businesses looking to build climate tech. Energy markets are often a black box, with energy data siloed across thousands of geographically limited utilities. What's the cost of power on the local grid at a given time? How much energy am I using? How clean is the energy mix?
Bluntly speaking, without access to that data, it will be impossible to modernize, decentralize, and decarbonize the energy system. Open access and control over energy usage data and costs will make it possible for businesses and industries to create the products and services needed to kick carbon off the grid.
That's why I'm thrilled to announce that Arcadia has raised a $200 million financing round led by J.P. Morgan Asset Management's Sustainable Growth Equity Team. JPMorgan Chase recently announced a $2.5 trillion target over the next 10 years to advance climate action and sustainable development. We're honored to work with a firm that is committed to helping underserved communities by investing in climate technologies delivering measurable solutions to industries that produce the greatest greenhouse gas emissions.
Additional investors include Keyframe Capital, Camber Creek, Triangle Peak Partners, Tiger Global Management, Wellington Management, Broadscale Group, Salesforce Ventures, Drawdown Fund, Energy Impact Partners, G2 Venture Partners, and MCJ Collective, among others.
This fundraising round will accelerate and expand what's possible with our data and API platform, . We'll be able to increase our energy data coverage (currently at 80% of US households), expand our commercial energy data network, and develop new products to empower companies across all industries to monitor, report, and act on their carbon impact, finally tackling that access problem once and for all.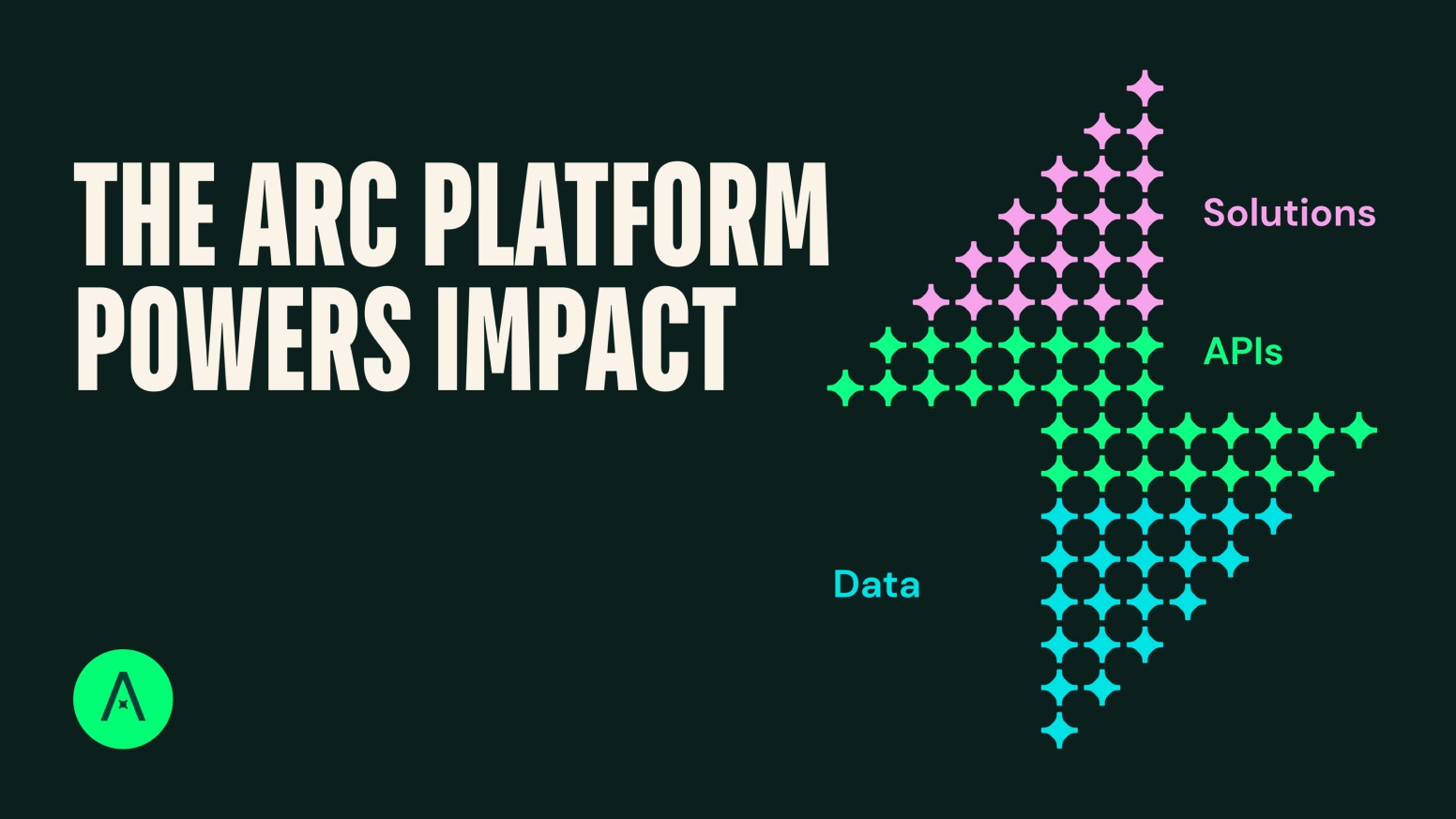 The Arc platform provides companies with easy-to-use data, clean energy, and APIs all under one roof. For the first time, Arc unites unprecedented access to utility data with an integrated suite of APIs to empower energy innovators. Currently, more than 100 innovators — including Ford, EnelX, Aurora Solar, and Stem — across industry verticals such as EVs, solar, storage, and Smart Home IoT, use Arc APIs to deliver better energy experiences to their customers and decarbonize the grid.
We can give every energy innovator the tools to accelerate the transformation of the industry from an analog energy network into a digitized information network with the promise of abundant, carbon-free power. From EV innovators looking to help end users automate their charging to the cleanest, cheapest times to solar and storage companies wanting better ways to qualify and bill their customers to retail energy providers, smart home companies, and more — any company looking to improve energy for customers and test new business models — Arc is making it easy to innovate faster and build new, climate-saving solutions.