At Arcadia, 2022 was all about pushing our software platform to meet the demands of the next phase of global climate action. Arcadia's Arc platform now enables the tracking of progress towards sustainability goals in line with emerging requirements for new ESG reporting frameworks on energy consumption and carbon emissions. We're incredibly excited by the progress we've made this year and we continue to be amazed by our customers. Here are some of my top highlights from the exciting groundwork we laid this year:
We acquired Urjanet and expanded to global commercial data access
For years, we've believed data to be the missing foundation needed to accelerate the energy transition. Urjanet's global data access is now part of Arcadia's industry-leading data and API platform — Arc — bringing data, tariffs, and payments under one roof. The acquisition of Urjanet provides us with access to 10,000 utility data providers across electric, water, gas, and waste in over 52 countries. It also adds powerful tech to our already comprehensive suite of APIs.
We reached 1 Gigawatt of community solar projects
Arcadia was an early proponent and leader in the community solar movement for nearly a decade. Community solar expands solar access to the 75% of Americans that can't use rooftop solar. It's more equitable decarbonization, and it also requires data and billing software to come to life. In September of 2022, our community solar product became the first of its kind with more than 1 gigawatt (GW) of capacity under management.
To put that figure into perspective: 1 GW is equivalent to 150,000 households powering their homes with clean energy, which is equal to preventing over 1 billion pounds of coal from being burned to power the grid each year.
We launched a data connector on Salesforce Net Zero Cloud
Integrating Arcadia's platform within Salesforce's Net Zero Cloud and app exchange will help enterprises improve the speed and quality of carbon emissions tracking and reporting by creating auditable, accurate reports using actual utility meter data. The launch of the connector expanded our solutions enabling any business looking to effectively monitor, report, and optimize its energy footprint.
Our brand was recognized as a leader in ClimateTech
Arcadia is a tech company fighting climate change. In 2022, we made Interbrand's 'Breakthrough Brands' list, and we were named one of Fast Company's 'Brands That Matter,' two influential brand indexes that highlight the increasing relevance of pushing for social impact and cultural innovation. The new guard of tech will not only be judged by its power to disrupt, but also by its positive impact. We're proud to be among this cohort and look forward to seeing more climate tech and sustainability companies gaining influence in the business world.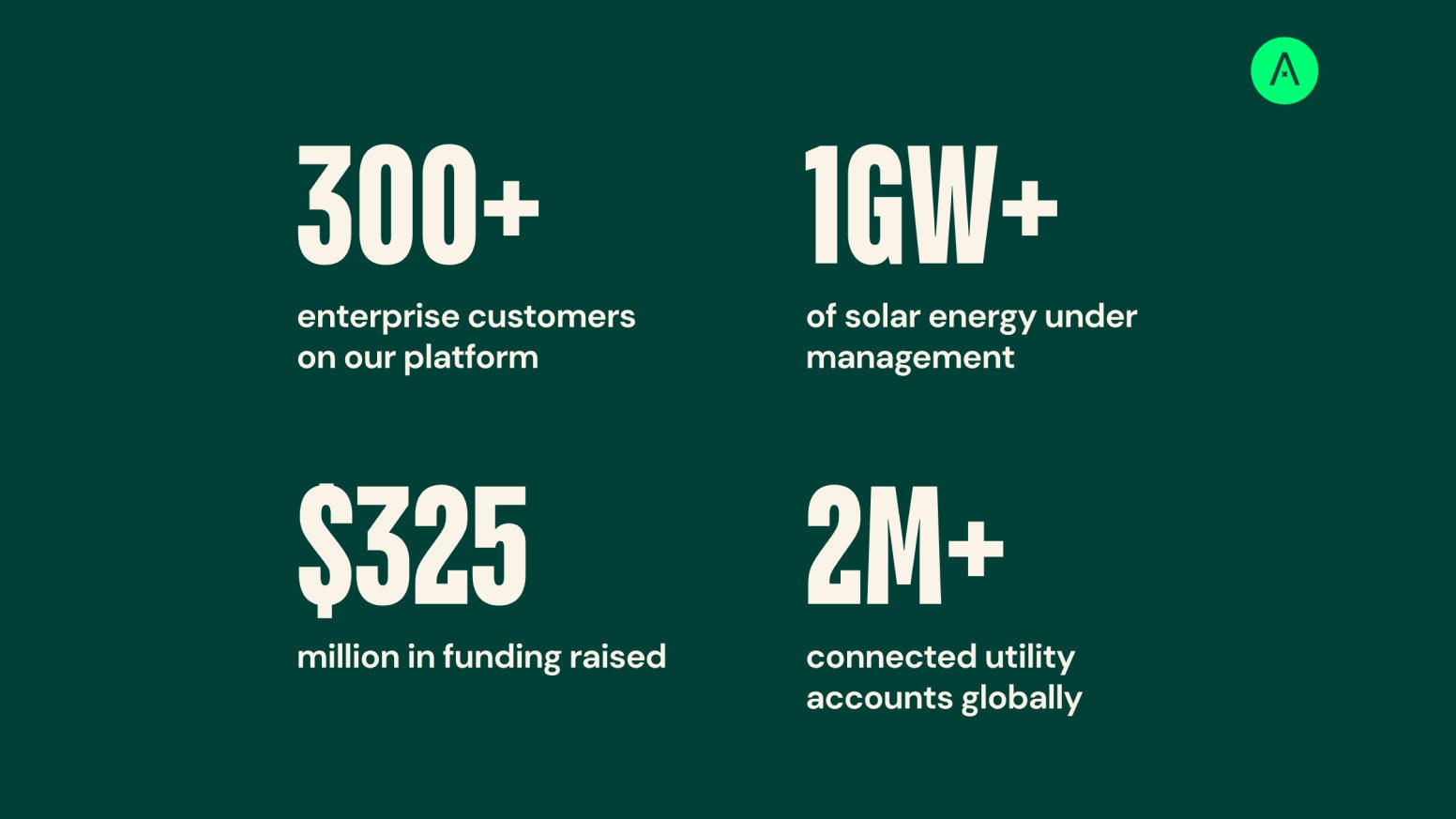 We raised over $300 Million in funding
In the spring of 2022, Arcadia announced a significant round of funding to help accelerate the impact of Arcadia's Arc platform. Our expanding suite of Arc product offerings will continue to aid in residential and commercial decarbonization by enabling energy solutions that couldn't exist without this level of access to utility data, tariffs, and payments.
Then, in late fall, we announced another tranche of funding to further support this mission. This investment will go directly toward accelerating our community solar business — already the nation's largest community solar portfolio — and toward expanding the Arc platform to work for the most critical use cases of the zero-carbon economy.
We partnered with American Farm Trust and Edelen Renewables to advance Smart Solar
Climate change and extreme weather patterns are issues close to the heart of many American farmers. This partnership combats climate change through community solar development while protecting America's farmland and ranchland for growing food, fuel, and fiber. Now, more farmers can take advantage of a new revenue stream and bring renewable energy to communities where it is not yet available.
We grew to 300+ enterprise platform customers
In just 18 months we've grown to include enterprise customers across nearly every sector of electrification including solar, storage, EVs, retail energy, energy efficiency, demand response, and carbon accounting. We are continually amazed by what our customers are doing to advance electrification and the innovations being built on top of our platform. Every company will eventually be a climate tech company, and we hope to expand horizons and verticals in 2023.
Looking forward to 2023
Overall, the need to electrify everything is intensifying. Businesses, asset managers, and consumers will be looking to optimize how the current analog energy system works. As businesses balance rising energy costs and the untapped financial potential of The Inflation Reduction Act, Arcadia is here to support their next step in the new energy economy. We are uniquely positioned to provide insights and data access that will help innovators develop the digital decarbonization energy and climate tech solutions needed to reach net-zero, faster.